Deep breaths… Here we have it. Part 3. The FINAL 50 reasons to visit Canada (sings 'It's the final countdown' #TUNE)
101. The Hemloft is a treehouse in the woods of Whistler. Something all childhood dreams are made of…
102. Toronto was named the 9th most livable city in the world.
103. Home of a thousand faces – another quirky art space, this time tucked away in British Columbia.
104. Hopewell Rocks are interesting rock formations you can find in New Brunswick.
105. The mushroom house in Whistler is based on the anatomy of a tree. Or 'Hobbit House' as some have called it.
Image: Trendhunterstatic
106. Their sasquatch caves are home to Big Foot. Naturally we need to go.
107. Fan Tan Alley – fun to say, and also the narrowest street in Canada.
108. Rachel McAdams – among many well-loved celebs to come from Canada.
109. Jasper National Park is the largest national park in the Canadian Rockies. Just look at it.
110. If you are shameful and love a good old Tiki bar, go and have a cocktail at The Shameful Tiki Room.
111. There's an abandoned amusement park in Amherstberg, Boblo Island. Creepily cool.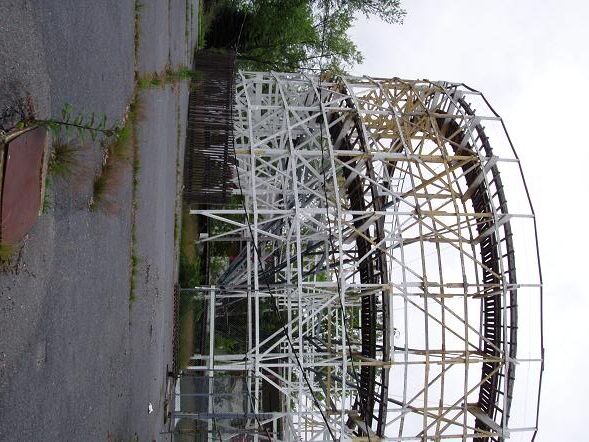 112. Lacrosse is another national sport you might wanna go watch.
113. There's an invite only burger joint in Toronto called Charlie's. The mystery intrigues us.


Image: cdnlooloo
114. Canada birthed Ryan Gosling.
115. If you want a great insta shot, check out Pesuta Shipwreck, which comes with a pretty incredible hiking trail (and a dog in a jumper*).
116. Montreal is the second most populous city in Canada, so there's plenty of new friends to meet. 117. There's literally a forest full of sign posts in Watson Lake, Yukon, called the Sign Post Forest (unsurprisingly).
118. Graffiti Alley in Toronto gives Hosier Lane in Melbourne a run for its money.
119. A Canadian called James Naismith invented basketball.
120. Canadians are polite.
121. You could join in with the Polar Bear Swim on New Years Day (basically swimming in the freezing cold waters of English Bay in Vancouver) with the hardy Canadians.
122. Lake Louise in Alberta – another magnificent view. Also turns into a skating rink in the winter. Niiiiiice.

123. Canada gave us The Rock.
124. We all know Canada is great for skiing and snowboarding.
125. 77% of the world's maple syrup comes from Canada.
126. And you can actually visit a maple syrup farm.
127. There are more donut shops per capita in Canada than any other country.

128. Bay of Fundy is one of the seven wonders of North America.
129. It's the 8th safest country in the world.

130. If you love seafood you should check out British Columbia.
131. Montreal is the cheapest city in North America for backpackers, apparently. And that's always good news.

132. Nova Scotia's Lunenberg is described as a 'living museum of the 18th century', and another UNESCO World Heritage Site.
133. You can go dog sledding in the Rockies – mush mush mush!

134. People in Churchill leave their cars unlocked in case people need to escape from polar bears. So at least you know your neighbours are looking out for you.
135. Those epic views in Brokeback Mountain? Oh yeah, they were in Canada.

136. Grouse Mountain, where you can skyride, snowboard, zipline, skate and go sledding. A playground for the snow sports enthusiasts.
137. Canada has the longest coastline of any country.

138. Jim Carrey is Canadian.
139. Canada was sixth in the World Happiness Report between 2013-2015, and we can't imagine much has changed since then.

140. You can drink craft beers and play arcade games at The Get Well Bar in Toronto.
141. Canadian McDonald's exclusively sell the McLobster. Hmmmmm.
142. Saint-Louis-du-Ha!Ha! Just the name in itself is reason enough to go.
143. Canada was named the best G20 country to be a woman.

144. The license plate for cars, motorbikes and snowmobiles in Nunavut is in the shape of a polar bear.
145. Mean Girls was filmed here because Canada is "SO TOTALLY FETCH"
146. Wood Buffalo National Park is the largest in Canada and one of the largest in the world (and you can see the Northern Lights here too!)
147. It's rumoured that Canmore could potentially bid for the 2026 Winter Olympics, which it's previously hosted in 1988. Go see why.

148. New Brunswick hosts a chocolate fest in August FOR A WHOLE WEEK.
149. You can stay in a hostel that used to be a jail in the 19th Century in Ottowa.
150. There's an annual aquatic bathtub race in Nanaimo – who doesn't want to see that?!
YOU MADE IT! 150 reasons COMPLETE! If you still aren't convinced, there's another 150 reasons here… JOKES! But seriously, if you're now itching to go (like us) then we'll leave flight, tour and visa info conveniently

here
The post 150 reasons you need to visit Canada: part 3 appeared first on .
Source: STA Travel
150 reasons you need to visit Canada: part 3